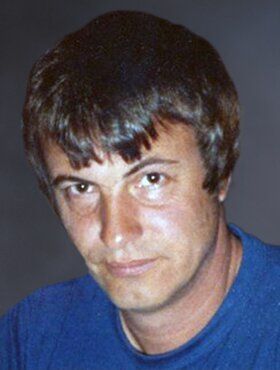 Obituary of Harold Arthur Duffield
March 19, 1943 – Guelph, Ontario
September 14, 2023- Calgary, Alberta
DUFF the Gravity-Man
For years I have been listening to this guy harp on the fact that the "Big Bang" and what he calls the "Big Bang Gang" (referring to the scientist that have this belief) are wrong. "Matter is continuously being created in the voids of space", he said thus the Big Band cannot have happened. One day he would say they will figure this out and drop the Big Bang theory. Well I must say, I never gave it much thought (but he sure has) until the Webb Telescope is now finding out information about our Universe that points to the Big Bang as never happened. So I am writing this as a local feel-good story about a man who, all these years, may just been right.
Backstory
The scientist is Harold A Duffield. Information can be found here, www.tri-on-ca. Harold, aka "Duff", was born in Guelph ON. At an early age, with lack of support, he developed an issue stuttering and was thus branded stupid and ultimately put into the controversial "Dunce Program ''. He was told repeatedly he was good for nothing. I am sure this played havoc on his early childhood development.
Being put in the Dunce Class gave Duff ample time to focus on anything he wanted (because they did not attempt to educate him, just make him comfortable). He thought about "Nothing". Being told he was good for nothing, but quickly discarded the idea as way too complex. One days, when playing in class he got mesmerized by magnets. He wanted to learn everything as to how these two pieces of metal wanted to move on their own to either come together or repel. He was hooked and with plenty of time on his hands. he started his theoretical thinking journey on "Gravity".
Growing Up
Duff's contemplation of Gravity grew to an obsession. He did manage to lead a relatively normal life, married around 22, 4 boys, moved to Calgary and joined the Calgary Fire Department. Along the way, this kid from the Dunce Class was able to graduate High School, despite his stuttering (which did lessen over time). He would often talk to people about his Theory to anyone who was polite enough to listen or just stuck and could not get away. It was during these years when Duff discovered the formula for Gravity.
G = E = MC2
Gravity = Energy = Matter x Constant Squared.
and his 4 laws...which can be viewed here,
http://www.tri-on.ca/tog0of4/tog.html
Keep in mind when viewing the website was purposefully laid out this way to preserve the original content/format of his theory.
As you can imagine, this single mindedness and his Gravity obsession did not make him popular amongst his coworkers. In 1984, Duff, after years of not being able to get his message out to coworkers, family, and even other scientists at U of C, add in a divorce, Duff had a mental breakdown.
Obsession
Duff, while working for Fire Department was diagnosed with bi-polar disorder and was put on LTD. Well, this only gave him more time to "think" (and think he did).
Over these years he did dabble other topics (computers, wine making, gardening). Knowing his Theory in the wrong hands could cause mass destruction, he came up with a plan to unite Humanity. The fruit of this plan is the Tri-on Corporation which was built on the legal Laws of Alberta in 1984. He actually was able to give every Human a share in his company through debentures, beyond me but he was able to legally file it causing the first of its kind World Encompassing Corporation. Pretty slick for a kid from the Dunce Class. He researched and filed it all himself, getting appropriate notary signatures to ensure its legality. He also conned some new phrases; "Remember to TRI ON" and "I gave you a class a voting share, so you are part of the Tri-on Corporation".
Over the years Duff struggled with his inability to get anyone to actually "listen".
Present Day
After 66 years of theoretical thinking (he was 14 when they put him in the Dunce Class) and obsession about Gravity, finally there is some light in the darkness. With the deployment of the James Webb Telescope and its subsequent scientific findings. Findings which start posing questions about the Big Bang, Duff has renewed hope. He is now 80 years old and running out of time. Age is blurring his mind/memory but not his Gravity. He would have loved nothing more than someone, anyone to disprove him so he can let this go for good, but Webb only reinforces what he has been theorizing all these years.
I know Duff very well and would like for him to get some acknowledgement of his years of dedication to ease his heart. Not sure how much time is left and after the discoveries of the last few months, have made me sit up and ask myself "is this old man actually right? After all these years.". This awakening has led me to write about this feel-good story of a Local boy from the Dunce class uniting Humanity and finding the theory of Gravity. This local boy is my father, who I have listened to for years and wish for him to have a final outlet before he is gone for good.
Sincerely,
Chris Duffield
Epilog - This was originally written before his passing but I wanted to share it. It gives people some idea about the Man behind the Gravity. You will be missed Duff (Dad, Pops)
Poem from Wade:
Pops
Grand pops
Great grand pops
You were all
Creator of the tri-on Corporation you gave a share to all
You thought your brain was small. But you could do all
Always so generous to all
You Gave your love to all
You will be missed by all
Loved you so much pops
YOU ARE MY ALL
Rest in peace September 14 2023
Duff Duffield, of Calgary, AB, passed away on Thursday, September 14, 2023, at the age of 80 years.
Duff's greatest pride: His sons and being a member of the Calgary Fire. Department
Duff is survived by his sister Marilyn.
A Celebration of Duff's Life will be held at McInnis & Holloway (Fish Creek, 14441 Bannister Road SE, Calgary, AB) on Friday, September 29, 2023, at 2:00 p.m. Reception with light refreshments to follow in the Hospitality Centre at the Funeral Home.
Family and friends who are unable to attend in person are invited to join Mr. Duffield's service streamed live (see below) on the day of the service. For those who are unable to view live, a recording of the service will be posted. Condolences, memories, and photos may be shared and viewed with Duff's family here.
In living memory of Harold "Duff" Duffield, a tree will be planted in the Ann & Sandy Cross Conservation Area by McInnis & Holloway Funeral Homes, Fish Creek, 14441 Bannister Road SE, Calgary, Ab t2x 3j3, Telephone: 403-256-9575.


Share Your Memory of
Harold